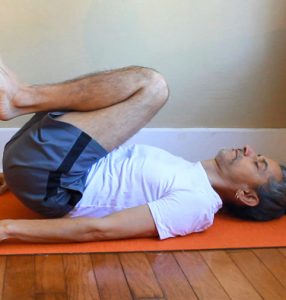 Do you have tense shoulders, achy joints and a tight back?
Yoga is not only for people who are flexible and relaxed already.
Anybody can do these simple yoga sessions. Quick ways to reduce stress, improve flexibility and calm your mind. In your own time and without pain.
Try this course to feel refreshed, relaxed and more flexible.
Simple, brief and very effective yoga sessions to reduce stress, improve flexibility and feel deep peace.
Start feeling better today!
"I've been really loving the practice on Quick Easy and Enjoyable yoga, the name fits! I have done all of them now several times and found each to be helpful. I like that I can pick and choose.
Also, I would have paid A LOT more For these treasure practices."
Michelle C.
What you will learn:
Effective and safe ways to practice yoga
A daily spinal maintenance sequence to enhance flexibility and keep your spine young and resilient
A yoga sequence focused on enhancing spinal alignment
A complete session for massaging your spine internally
A sequence designed to relax shoulders and hips
Guided relaxation at the end of each session
A sequence for shoulder flexibility
A sequence for releasing tension in your lower back, hips and thighs.
Requirements
Who can benefit from this?
Anybody who wants to reduce muscular tension, decrease stress, enhance mobility and maintain their spine healthy. These sequences have been used successfully by students new to yoga and by people who just want to feel better in their bodies.
Benefits
Decrease tension
Enhance natural movement of spine and joints
Support natural alignment of spine
Release tension from shoulders and hips
Improved flexibility
"Thank you for a wonderful online course. I find it helpful, clear and safe. The short sessions make the course accessible and the visuals help with memorization. Your new course is extremely well-done!"
Carol D.
6 Sessions
Daily Spinal Maintenance (14 minutes)
Aligning your spine (22 minutes)
Massaging your spine (20 minutes)
Optimize connections shoulders, spine and hips (25 minutes)
Healthy lower back, pelvis and hips (13 minutes)
Healthy shoulders (10 minutes)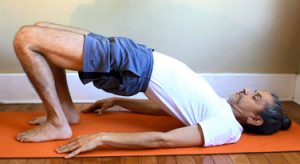 I am here for you!
The main reason I teach yoga is to share the wonderful benefits of yoga so that everybody can feel vibrant, joyful and alive! It is my way to try to make the world a better place, one person and one session at a time. I want this course to be effective and useful for you. Please feel free to contact me with questions about this or any other courses and with questions, comments or doubts that emerge from your practice. Your questions are important to me and I am committed to offering you logical answers so that you are confident that your practice is safe and effective. Of course, it would be great if you could let me know if these sessions are making a difference in how you feel.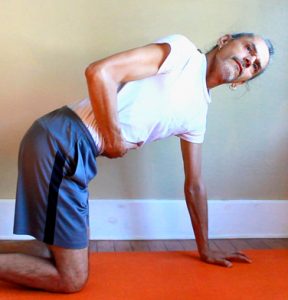 What do you get when you buy this course?
6 sessions streaming video
Clear suggestions for practice
Lifetime access
Access on any device
"I have taken the course a few times and am grateful to have it! I love the accessibility of planning it into my day at a convenient time. This works better for me than a scheduled meeting on Zoom. I like the breakdown into different segments of different lengths to again fit a given period of time. When time allows I hope to do all 6 segments in one session! Your accompanying explanations of the benefits/focus of each part is an added bonus. I look forward to these online classes with you, the next best thing to an in-person class. Thank You."
Evelyn R.
Cost
This course could sell for $79. However, my goal is to contribute to the well-being of as many people as possible. I believe these useful techniques should be available for everyone.
Price US$29
If you cannot afford the course I am happy to help. Contact me by email and I will get back to you with an alternative exchange proposal.
Satisfaction Guaranteed
If you are not 100% satisfied with the course, just send me an email and I will give you a full refund.
S.I.M.P.L.E. Y.O.G.A. Guidelines

What is SIMPLE YOGA and how to practice.

Daily Spinal Maintenance (14 minutes)

Movements to keep your spine healthy, flexible and resilient.

Healthy back and hips (12 minutes)

A short and sweet sequence focused on releasing tension in the lower back, hips and thighs.

Healthy Shoulders (10 minutes)

A brief yet very effective and relaxing exploration of the natural range of movement in the shoulders.

Spinal massage (20 minutes)

Massage your spine with these postures and movements to decrease tension, enhance flexibility and improve circulation.

Optimize connections shoulders, spine and hips (25 minutes)

Decrease tension from your upper back and shoulders to improve shoulder function and flexibility. Explore range of movement in your hips.

Aligning your spine (22 minutes)

Explore spinal movements for enhancing balance and improving alignment.