Yoga in Tuscany
May 20– 27, 2023
Experience Joy
in Beautiful Tuscany
Step outside your daily routine and take time to unwind, relax and recharge in an unspoiled area of Tuscany where a recently remodeled 800-year old villa awaits you. Surrounded by olive groves this historic villa, Villa Cugnanello, is the perfect venue to set aside your daily routine. In this retreat Rubén Vásquez will help you tailor your practice to remove tension, enhance circulation, improve vitality and focus your mind. Every day you will be guided in a variety of yoga techniques to integrate your body, mind and soul.
"It is the most magnificent thing I have ever done for myself. It has been the most peaceful experience that I've ever had. It is an experience that I'll take with me for the rest of my life."

"I just wanted to thank you for the wonderful week we spent together in Guatemala. It truly was Pure Bliss. Rubén, your teachings, guidance and words of wisdom mean more to me than I can say. You inspire me to be a better person."

"Ruben has an extraordinary gift of sharing the true essence of yoga with his students. I actually find myself smiling more now in practice because I do love my practice, just needed reminders about how calming, easy and self-healing the practice is!"

"Thank you for a wonderful trip to Costa Rica, Ruben! For me, it was perfect, an opportunity to deepen my yoga practice, explore the beauty of the rainforest and, most importantly, leave behind the stress of everyday life for just a few days."

"Thank you for planning and delivering such an excellent yoga retreat. I'm so happy I was able to be a part of it. Thank you!"
This is the Retreat for You
A yoga retreat is a powerful journey to discover your internal source of deep peace, balance and joy. Just as most yoga teachers make sure to reduce distractions in yoga classes so that students can focus on their practice, I know that it can be daunting to navigate all the details of traveling to another country. No need to worry. I will take care of all of the in-country arrangements to ensure that you have a smooth journey.
With many years of experience traveling and living in Latin America, Europe, Asia, and the U.S., I am skilled at providing a worry-free, distraction-free retreat. I will also be glad to help you as you prepare for the trip and during your stay. I have crafted a fulfilling, enriching and rewarding experience for you, and I will ensure that you will get the most out of your retreat.
2 Daily yoga and meditation sessions tailored by Rubén to meet the needs of the group
Tuscan cuisine cooking lesson
Excursion to beautiful San Gimignano
Excursion to legendary Siena
Pizza night
Local wine served with dinner every night
Saltwater swimming pool
Extensive fields to explore in the estate and nearby areas
Fitness room available
Private yoga session with Rubén (additional fee)
Horseback riding and lessons (additional fee)
Massage (additional fee)
Excursions to nearby areas (additional fee)
Wine tasting (additional fee)
Longer guided hikes (additional fee)
Registration opens: July 6, 2022

Registration is secured with deposit of $600
Only 14 participants

If desired, installments can be paid before March 1, 2023
Deadline to pay balance: Wednesday, March 1, 2023
Registrations accepted after March 1, 2023 depending on availability
Retreat begins on Saturday May 20, meeting at Florence main train station Santa Maria Novella
Retreat ends on Saturday May 27 with return to Florence main train station Santa Maria Novella
Yoga in Tuscany
May 20 – 27, 2023
$2695
Per person for single room
Cost of the Retreat Includes
 Accommodation
3 Meals daily at the retreat venue
Unlimited filtered water, sparkling water, juice, tea and coffee
White and red wine with dinner
Airport transfer with the group between retreat venue and Florence
Daily Yoga Sessions with Rubén
Visit to Siena
Visit to San Gimignano
Tuscan cuisine cooking lesson
Pizza night
Use of facilities and exploring retreat venue 45 acres property
Local taxes
Plenty of time to enjoy and relax
Airport transfer with the group between retreat venue and Florence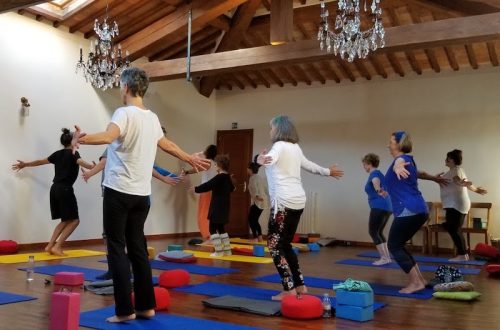 Don't Wait.

Spots Are Limited.
Join our group for this exclusive and transformational yoga retreat. I intentionally keep the groups small so everyone can relax, restore and heal their bodies and minds in good company.
— Rubén Vásquez