Comprehensive Learning
Progressive Modular Design for Deep Learning
Enrich Your

Yoga Practice
The Deep Integrated Yoga Studies program is best for students who are curious to learn more about yoga and who want to immerse in a deeper practice. We are very pleased to offer an immersion in the tradition of yoga for students who are ready for a deeper and richer experience of yoga. The overarching goal of our program is to assist you in enriching your yoga practice so that you can live a meaningful, fulfilling and joyful life guided by an open mind and a loving heart.
Expand Your Understanding, Perspective and Knowledge of This Ancient Discipline
Applied Yoga Philosophy
Yamas & Niyamas
Anatomy & Kinesiology applied to yoga
Chanting
Mudras – hand gestures, energy seals
Pranayama
Inward sensitivity
Concentration & Meditation
Integrating all limbs of yoga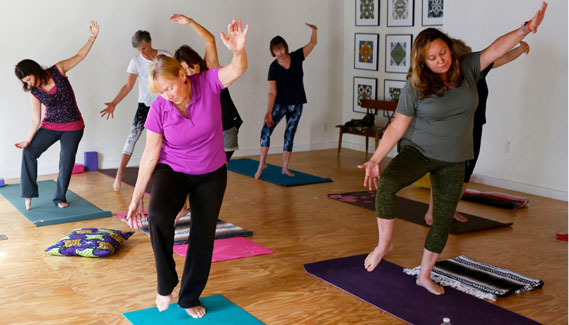 Comprehensive Learning
Progressive Modular Design for Deep Learning
We understand a yoga practice grows through studying and applying the techniques of yoga over an extended period of time. We have learned through our committed personal practice and our experience as full-time teachers that the practice evolves more easily in a safe environment that facilitates growing at a steady pace. We have seen this first hand in ourselves and in the students who have participated in our teacher training programs. Because we would like to provide opportunities for all students to enjoy the benefits of a deeper practice, we have created a program that helps you grow your practice at a safe pace.
Our program includes all aspects of yoga, so you will enjoy learning and applying yoga philosophy, chanting, mudras, pranayama and meditation techniques from teachers who have been practicing these techniques steadily over time. Of course, you will also gain a detailed understanding of a wide range of postures as well as how to practice and sequence them safely. Because you have time to practice in-between our advanced study sessions you can really notice the effects that the different practices have on your system. You also have plenty of opportunities to ask questions to clarify your practice.
Our Program is Unique
You deepen your practice at a safe pace over time
You learn a consistent and principled approach to yoga
You explore intelligent ways of practicing
You receive individual feedback on your practice
You practice the complete spectrum of yoga, not only postures or a specific series
The seeds of learning are planted during our sessions together. For those seeds to sprout, take root and grow they need your attention through home study and daily practice. As it is explained in the yoga philosophy, yoga works gradually through dedication, detachment from goals and according to our level of commitment. We suggest around 1 hour of daily practice combined with 2 to 3 hours of exploration and reflection of philosophy in between sessions.
Each session offers you a manageable amount of information, instruction, exploration and practice.
Each Deep Study session is balanced and includes all aspects of yoga to facilitate deep learning.
You receive our comprehensive manual including all techniques covered.
We suggest an appropriate home practice that you tailor according to your needs and time availability during the interval between meetings.
When we meet again, we continue our ongoing dialogue.
Since we live in your community, we are available to answer your questions in between Deep Study sessions.
And, of course, you can also attend workshops and classes at the studio.
Weekend Training Sessions
Our Deep Integrated Yoga Studies meet once every 2-3 weeks for a weekend.
Fridays from 6pm to 9pm
Saturdays from 1pm to 7pm
Sundays from 1pm to 7pm
"I, like most people, am a multi-media learner, so the combination of reading, discussing, watching, and doing was an excellent approach. Combined with the repetition of key ideas, I felt thoroughly oriented by the end of the year."
Grow with a Group of Peers
Our program spans the length of a year from January through December. Since our programs start and end at specific times every participant shares in a common body of knowledge, making it easier to create a steady progression conducive to structuring a firm foundation for your personal practice. We see this program as an ongoing dialogue where it is important to have a consistent group of peers. There are several benefits from this approach:
You participate in a community of learners that fosters consolidating your knowledge through interactions with your peers
You develop a common language that facilitates exploring deeper concepts and techniques because everybody in the group develops familiarity with the material studied
You grow at a safe pace, because you have time to practice before moving forward
The ongoing dialogue from session to session helps you compare notes and benefit from multiple perspectives
You have a complete network of support that includes your teachers and your peers
Invest in Your Transformation
We feel passionately about keeping yoga accessible while maintaining great quality and value. We take pride in our work and can assure you that it is highly unlikely that you can find a program with the depth and breadth of our program. Furthermore, even if you could, the cost would not be as competitive as ours. We know because the main focus of our program is not profit but our commitment to expanding the reach of authentic yoga.
Your tuition includes
All Deep Integrated Yoga Study Sessions
Unlimited yoga classes at Yoga Etc studio
Workshops at Yoga Etc studio
Digital Yoga manual and study guide (800+ pages)
A weekend yoga retreat at the end of the year!
*Tuition does not include required text books.
Requirements & Application
This program is for students who want to strengthen the foundation of their yoga practice and who want to develop a deeper understanding of all aspects of yoga.
The main requirement is a sincere desire to expand your practice in a mindful and meaningful way.
No specific level of fitness required
To apply for this program contact us to submit your application and set a time for a personal interview.
Deep Integrated Yoga Study (DIYS) Program Schedule
January 10,11,12
January 31, February 1,2
February 21,22,23
March 13,14,15
April 3,4,5
April 24,25,26
May OFF
June 5,6,7
July 10,11,12
July 24,25,26
August 7,8,9
August 28,29,30
September 11, 12, 13
October 9,10,11
October 30,31, November 1
November 20,21,22
December 4,5,6 Retreat *****
Become a Knowledgeable and Effective Yogi
We are here for you the whole way through. We create an environment of collegiality, respect and curiosity, to inspire you to learn, share and grow to live a joyful, meaningful and fulfilling life.