Yoga Integrity Teacher Training 200
Develop a Strong and Comprehensive Foundation
Teach Yoga with
Confidence and Integrity
The Yoga Integrity Teacher Training is a complete program of in-depth Yoga studies for committed students who want to strengthen their understanding of yoga in order to become knowledgeable, honest and responsible teachers of yoga.
Two Core Values in Our Program:
Integrating all limbs of yoga
Practicing, teaching and living with integrity
We know that the clarity and wholeness of your personal practice make your teaching true, authentic and creative. These values inform the overarching goals of our program:
To assist you in enriching your yoga practice so that you can live a meaningful, fulfilling and joyful life guided by an open mind and a loving heart.
To create opportunities that help you grow, develop and sharpen your teaching skills, so that you can become a competent, effective and compassionate teacher.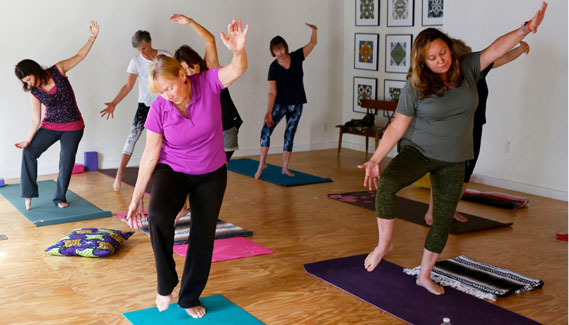 Multidimensional Learning: Our Unique Approach
We have spent countless hours designing and crafting a very comprehensive program from the ground up to assist you in expanding your practice and enhancing your teaching skills. Our multidimensional learning program is a guided gradual journey of self-inquiry. Anybody who starts traveling the path of authentic yoga soon discovers the breadth and depth of this ancient discipline. From our years practicing, studying and teaching we know that it is possible to integrate all aspects of yoga.
We have crafted a program that brings together a wide range of practices in small, easy-to understand an simple to apply modules that cover both the depth and breadth of yoga at a reasonable and easy to digest pace.
In these training sessions, you experience the richness and depth of yoga in body, breath, sound, mind and heart without feeling overwhelmed, instead you will feel confident to integrate all of these aspects into your practice. In addition, your program of studies includes practicum sessions to give you opportunities to hone your teaching skills and to receive constructive feedback to assist you along the way. There will also be special workshops to help you refine the quality and relevance of your instruction.
Each Training Session Combines Bite-Size Modules in:
Applied Philosophy
Anatomy & Kinesiology applied to yoga
Chanting
Asana
Pranayama
Meditation
Mudra
Observation skills
Verbal cuing
Teaching methods
What Our Program Delivers
An authentic experience of yoga that meets you where you are
Logical knowledge to strengthen, expand and deepen your existing yoga practice
A program that goes beyond postures (asana) because it is directed to the whole person and not just to your physical body
A gradual progression of modules building sequentially from a strong foundation
Simple and practical ways to integrate all aspects of yoga
Numerous opportunities to practice and teach
A community of learners
As a result of our years of experience as yoga students, practitioners, teachers and trainers of yoga teachers, we know what works and what doesn't. We understand the frequent challenges faced when trying to establish a personal yoga practice. We are familiar with the patterns that we have observed in thousands of students and numerous teachers over the years. Moreover, as committed yoga practitioners and teachers, we have dedicated our lives to a lifelong journey of deepening our knowledge and refining our practice and our teaching for the benefit of our students and our community.
Develop Your Observation Skills and Learn to
Teach Logically
Because we know that you develop your teaching skills over time through meaningful feedback, our program offers you numerous opportunities to develop your teacher's eye so that you learn to see clearly what students need. Moreover, you also have plenty of opportunities to teach in our practicum sessions, where you will learn to hone your skills based on meaningful feedback received from students, peers and teachers.
Integrating What You Learn
A competent teacher is a dedicated student who keeps learning by integrating what she studies and practices into her craft. Between training sessions, you have time to explore, digest, implement and reflect on what you are learning. Our program integrates current Western science with the yoga tradition so that can be confident in teaching yoga that is appropriate to your students. The concepts from the applied anatomy sections are cross-referenced in our training sessions so that you can apply what you are learning to make your practice principled, logical, safe and effective. As a result, you will be able to use your direct experience to teach a wide range of students avoiding injuries and inaccuracies.
We Care
We know that the yogic path is a lifelong journey of self-discovery and we want to support you along in your learning and growing. We are here for you the whole way through. We create an environment of collegiality, respect and curiosity, to inspire you to learn, share and grow. Because we respect and honor the process of powerful transformation resulting from meaningful yoga practice, and in order to maximize your opportunities to learn, to be seen and to be heard, our program is limited to a maximum of 10 participants.
Our Programs Exceed Yoga Alliance Requirements
Our teacher training programs are approved by the Yoga Alliance.
We understand that you want to gain true knowledge through direct experience, but also that you want to receive recognition for all your heartfelt effort and that you want to have credentials accepted and recognized nationally and internationally. More than just meeting the minimum Yoga Alliance requirements, our Yoga Integrity Teacher Training programs exceed Yoga Alliance requirements:
In our 200-hour program you will complete 240+ contact hours
In our 300-hour program you will complete 300+ contact hours
"This is a teaching program to develop personally and professionally, offering exposure to all aspects of yoga: mind, body and spirit. I admire Cindy and Rubén for the thoughtfulness and commitment to true well-beingyoga that allows for teaching time to address student's personal circumstances appropriately, lovingly and from the point of view of applying what you teach."
Our teacher training sessions meet once every 2 to 3 weeks for a weekend. These weekends include:
Fridays from 6pm to 9pm
Saturdays from 1pm to 7pm
Sundays from 1pm to 7pm
The seeds of learning are planted during our sessions together. In order for those seeds to sprout, take root and grow they need your attention through home study and daily practice. As it is explained in the yoga philosophy, yoga works gradually through dedication and detachment according to our level of commitment. We suggest around 1 hour of daily practice combined with 3 to 5 hours of exploration and reflection on the materials covered during our sessions together.
You may apply to our programs regardless of your current level of fitness, strength or flexibility. How many postures you know or have mastered is also not an important criterion for application.
Like every yoga teacher for thousands of years, we are interested in your commitment to grow as a yogi and as a human being. Thus, we invite students who are sincerely interested in growing as yogis, as teachers and as human beings. We are committed to offering you the best quality training experience and materials possible and we encourage you to commit to your own personal development.
As you very well know, the quality of the results is directly proportional to the quality of your work. For all our programs the main requirement is that you make a commitment to dedicating this time to yourself to grow and learn at a pace that is appropriate for you.
Affordable Journey to Transformation
We feel passionately about keeping yoga accessible while maintaining great quality and value. We take pride in our work and can assure you that it is highly unlikely that you can find a program with the depth and breadth of our program. Furthermore, even if you could, the cost would not be as competitive as ours. We know because the focus of our program is not profit but our commitment to expanding the reach of authentic yoga.
Yoga Integrity Teacher Training 200
200-hour program (January-December)
$2600
240+ contact hours of instruction
Your Tuition Includes
All Yoga Integrity Teacher Training Study Sessions
Unlimited yoga classes at Yoga Etc studio
Practicum sessions
Digital Yoga manual and study guide
A weekend yoga retreat at the end of the year!
Your check will not be cashed unless your application is accepted. If making payments, a $500 non-refundable deposit is required at the time of application with payments spread out over the course of your program. Tuition is nonrefundable once you have started into the program. If for any reason the program is canceled, you will receive a full refund.
*Tuition does not include required textbooks.
Requirements and Application
You may apply to our programs regardless of your current level of fitness, strength or flexibility. How many postures you know or have mastered is also not an important criterion for application.
This is our entry level teacher training program for dedicated practitioners wanting to teach. To apply for this program:
The main requirement is a sincere desire to expand your practice in a mindful and meaningful way.
To apply for this program contact us to submit your application and set a time for a personal interview.
No teaching experience required.
Yoga Integrity Teacher Training 200 Program Schedule
January 10,11,12
January 31, February 1,2
February 21,22,23
March 13,14,15
April 3,4,5
April 24,25,26
May OFF
June 5,6,7
July 10,11,12
July 24,25,26
August 7,8,9
August 28,29,30
September 11, 12, 13
October 9,10,11
October 30,31, November 1
November 20,21,22
December 4,5,6 Retreat *****
Become a Knowledgeable and Effective Yogi
We are here for you the whole way through. We create an environment of collegiality, respect and curiosity, to inspire you to learn, share and grow to live a joyful, meaningful and fulfilling life.