Coming together: Online virtual retreat
May 9, 2020 10am - 5:30pm
Meet yourself with purpose in peace and tranquility
This retreat is an invitation to take time for self-care. We will gather together virtually to practice yoga and to learn effective relaxation techniques. We will also take time for meaningful conversation and to explore how yoga philosophy can guide us during this challenging time. After a deeply relaxing guided meditation practice we will celebrate ourselves and our time together.
What is an online "virtual" retreat?

After a few weeks of being at home as we do our part to prevent the spread of the Coronavirus many of us are feeling antsy and ready for something different. Feelings of confusion, impatience, frustration and anxiety are a normal response to not knowing with clarity what is the most intelligent step to take next.
Time away from your daily routine
Opportunities to refresh, relax and recalibrate
Group activities via zoom

Yoga
Effective relaxation techniques
Meaningful conversation
Guided meditation
Step away from the routine
These days as we work, live, cook, eat, exercise and socialize at home every day, it may seem impossible to actually take time off to pause and change perspective.
Just like in my in-person yoga retreats, in this virtual yoga retreat I'll guide you through simple yet effective practices that will nourish your body, mind and heart so that you can focus on you, your needs and your priorities during this time of unprecedented change.
Benefits of a virtual retreat
No commuting
No travel reservations
Inexpensive
Stay in your comfortable clothes for as long as you want
Relax deeply to give your body, mind, heart and immune system a chance to recharge
Connect to your deep core of peace and tranquility
Clarify your intentions and goals
Enjoy time with other like-minded people in a safe and welcoming virtual space
Pause to take time for self-care
Coming together
May 9, 2020
$55
If you are unable to pay due to hardship resulting from the Coronavirus pandemic, please contact me about scholarships.
Small group
Limited to 8 participants, to ensure that our virtual retreat feels intimate and is conducive to meaningful interactions.
We will use the retreat as a way to feel connected and to offer ourselves our undivided attention so that we can  take care of ourselves, reduce stress, connect to our inner wisdom and fine-tune our purpose. Being part of a group will also prevent getting distracted by the many things that tend to deplete our attention and energy.
Retreat day Schedule
10am Welcome & introductions
10:15am – 11:15am Yoga practice for joint health, flexibility and balance
11:15am – 11:30am Break
11:30am – 12:30pm Effective relaxation techniques
12:30pm – 2pm Individual time and lunch break
2pm – 3:30pm Coming together: Tea & talk
3:30pm-4pm Break
4pm – 5pm Light yoga and guided meditation (yoga nidra)
5pm Closing celebration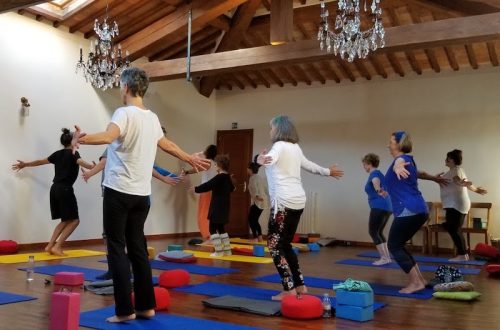 My goal is for you to find time to slow down and give yourself time to recharge. With your undivided attention you can reconnect to the core of your being. This retreat is also an important way to come together to remember and celebrate how important it is to be social. In this retreat we are coming together, yet also intentionally enjoying our own quiet time in our own familiar space.
When you register  I will send you the Preparing for Virtual Retreat Guide with all the information you need to make the most out of this day.